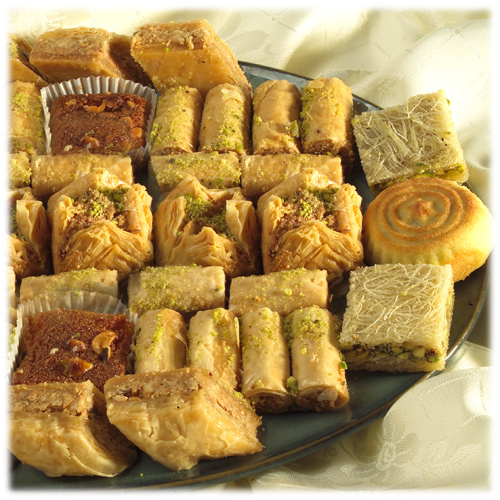 "Authentic, Fresh, Truly Moreish Taste Sensations...Delivered Direct to Your Door."
Assorted Baklava
Explore the delicious delights that await...
Baklava is a sweet that spans many cultures including the Middle Eastern, Greek, Turkish and Eastern European. Each culture has its unique mixture and combination of ingredients.

We at Ambala have taken this wealth of knowledge to bring you our own unique take on this most beloved of sweets. And after one bite, we're sure you'll agree, that we've managed to capture the essence of what makes Baklava so universally popular.


Established since 1965, Ambala offers a wide selection of the very finest quality confectionery. Our uncompromising use of only premium quality ingredients remains the secret of Ambala's unrivalled quality and taste. We painstakingly source our milk from only the finest Channel Island herds and all our products are free from preservatives, artificial flavours and are suitable for vegetarians. This to ensure that you receive a truly unforgetable taste sensation with every mouthful.

Our Baklava assortment is comprised of delicate, mouth watering cookies made of crispy pastry leaves or shredded wheat, filled with a variety of sweetened nuts: pistachios, cashews, pinenuts and walnuts. The selection also makes a great way to offer a choice of sweets to guests at dinner parties.

Ambala's Baklava is delivered ready to eat, in a selection box full of exotic and irresistible flavours. No further preparation or cooking is needed. Which one will be your favourite?

Testimonials
I have never in my life tasted such utter perfection in tastes from your Assorted Baklawa selection...each different one making me want to try another different one to see if the mouth watering gorgeousness of them continued on to the next one! And guess what, it did. I've no idea what the small sausage roll looking item was but I had 4 in the box and I ate them all in 2 minutes...and then I was thrown into another, and another, and another taste of Heaven.
Paul H.
The form of packaging, quality of contents and your attention to detail was all first class...You have certainly managed to exceed my expectations with your high standard of service. Words such as "delicious", "sumptuous", "lovely", "absolutely wonderful" were used to describe the sweets.
Nilesh D.
This is great service indeed.
Cornelia P.